09/10/2017
Business owners 'walk and talk' at Shibden Hall
Walking and Talking is becoming an increasingly popular way for counsellors to engage with their clients in the outdoors instead of sitting in front of each other, face-to-face, in a traditional therapy room.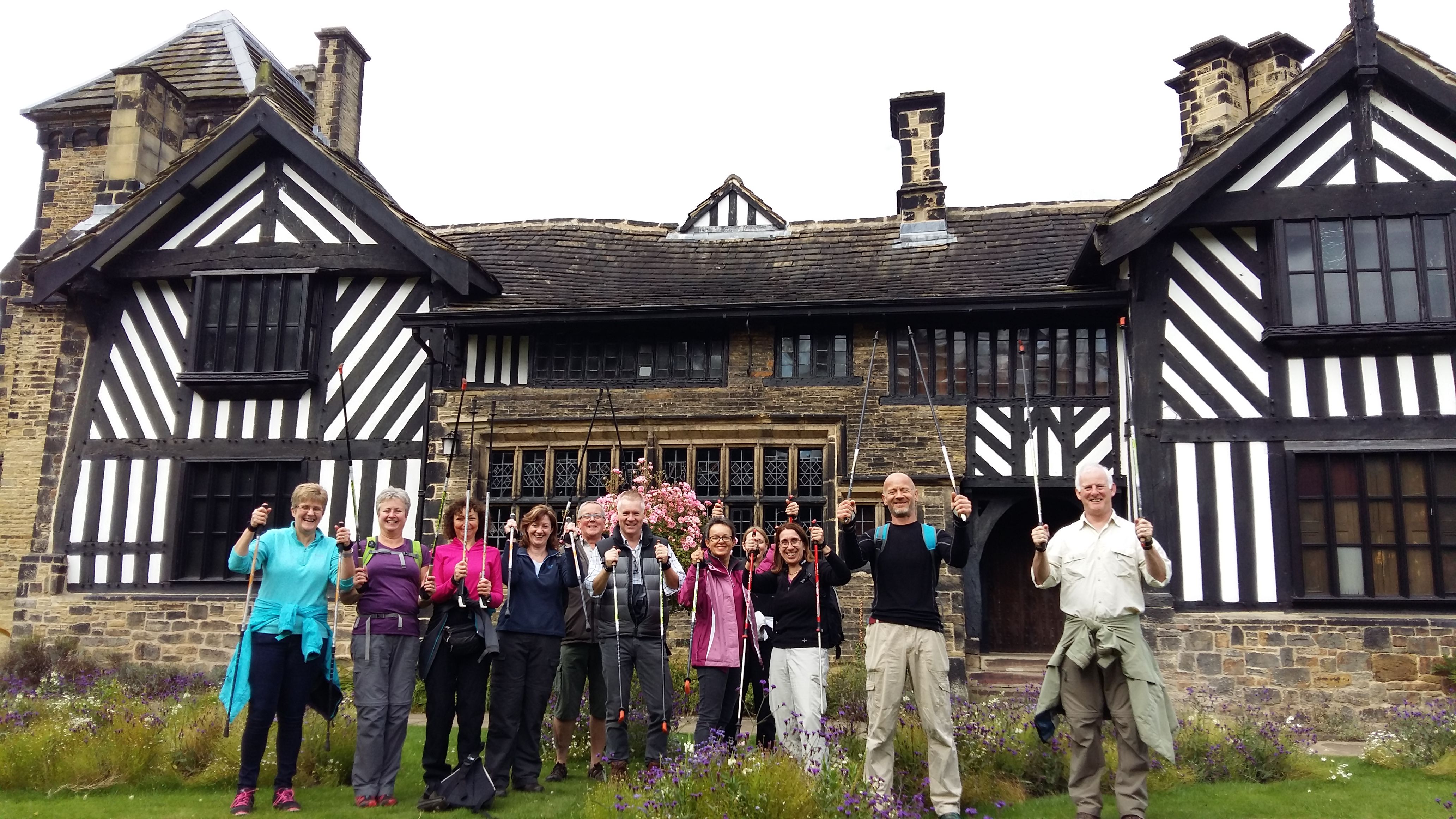 Being outdoors breaks down a number of barriers and offers a whole different range of experiences for the senses. It makes the session more dynamic, less intimidating, and allows for easier engagement.
It is not surprising therefore that coaches and consultants of various disciplines are also utilising this method for engaging with their clients and prospects both in innovative, outdoor one-to-one coaching sessions, but also in group "netwalking" sessions.
Networking in an indoor environment can often be a little bit intimidating. There is a certain vulnerability to walking into a room full of strangers. Combine that with the possibility of having to quickly come up with your "elevator pitch", or not wanting to appear overly pushy with your business cards, it can sometimes be awkward, at least for the less well initiated.
Get yourself into a friendly group of people whose sole aim is to walk, talk, and possibly stop for a brew, cake, or meal as part of the occasion and you are immediately more relaxed. Join a regular such group and you can make good friendships whilst 'killing the second bird' of rejuvenating your physical health, posture and mental wellbeing.
---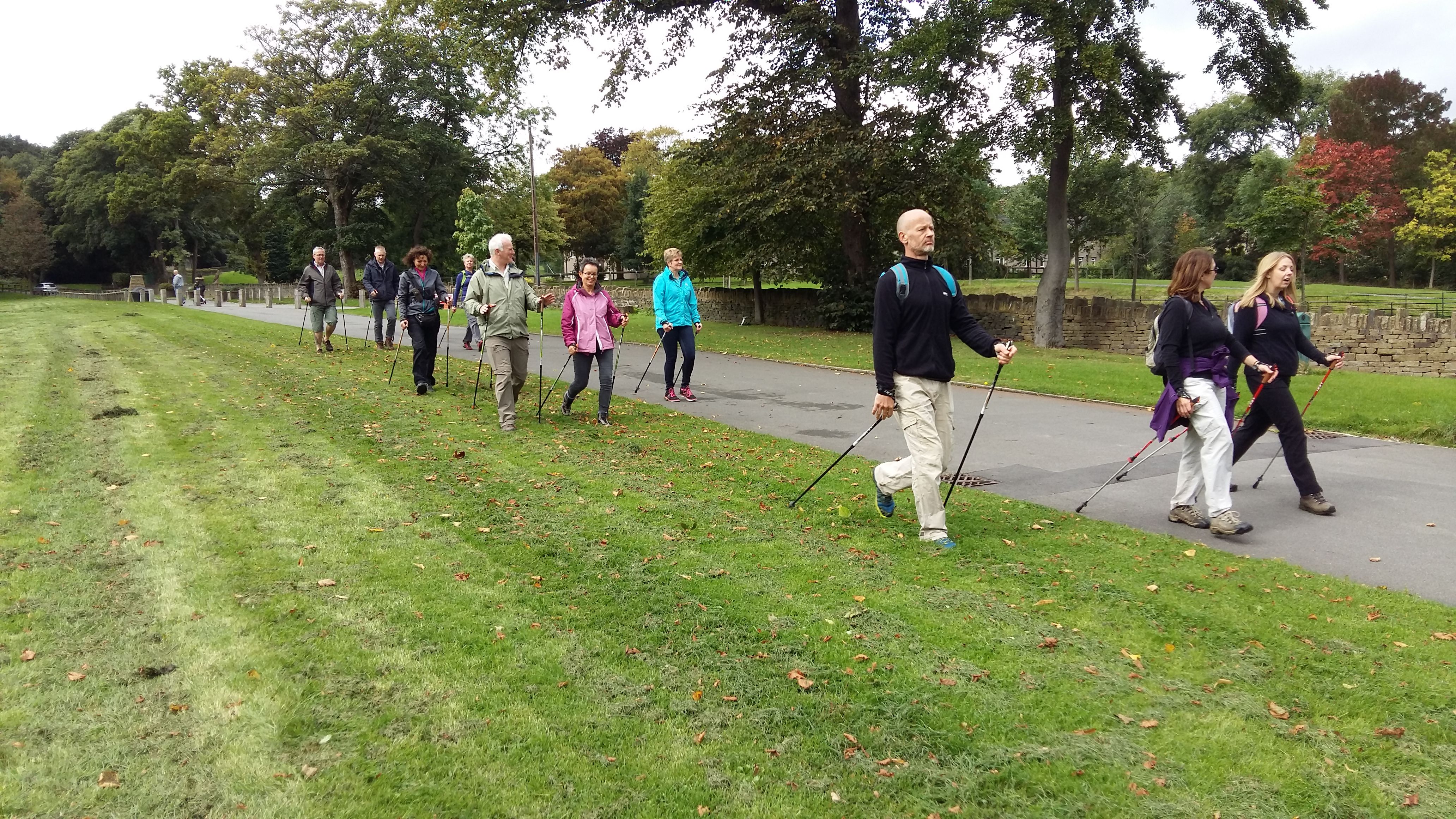 One of the services we offer at Matt Gibbs Consulting is taking the "walk and talk" model to the next level. We introduce the #magicpoles and encourage a more upright, brisker paced walk. We are all used to sitting down these days, whether on the commute, or in the office, on mobile technology, whilst eating, or just flopping in front of the TV after a long, busy day. It is a lot of sitting. In fact, sitting up to 16 hours a day led me to a poor state of health and wellbeing and so I am always keen to share my story, tips, and advice to inspire those who often find themselves deskbound for long hours to sit less and move more.
Allow me to now introduce you to Judith Wardell of Kingswood Age Confident. Judith and her business partner, Jane Barmer, have a shared passion for helping organisations to become confident in managing an age diverse workforce and engaging positively with older consumers.
I was introduced to Judith after Jane had delivered an excellent Age Confident session to my team of Walk Leaders of my Nordic Walking Preston group. It had been a fabulous experiential session allowing us to step into the shoes of our ageing customers while wearing special equipment simulating some of the physical effects of ageing. The powerful Age Confident experience enabled us to learn about the barriers and frustrations that older people may face and what works well in an Age Confident service.
Alongside the Kingswood Age Confident business Judith runs her own Walk and Talk networking group and a number of the members are coaches and consultants. We agreed with Judith earlier this year that it would be an interesting adaptation to her regular Walk and Talk session to bring her group to Shibden Hall near Halifax and introduce the group to the magic poles, the many benefits of Nordic walking, and then head out for a walk and talk using the poles. It was a fun session and the feedback from the participants was great.
We later discussed repeating the session, but this time giving more in depth tuition on the use of the poles so that each of the group could come away with the unique Nordic Walking UK Freedom Passport. The Passport is a certificate of recognition that an individual has undergone a certain amount of tuition on using the poles and provides them with access to a large national network of instructors and walking opportunities. Yes, walking with poles is trickier than you think, but once you have learnt under the guidance of an experienced instructor you feel more confident and comfortable to get out there to experience the many, and often life-changing benefits it offers.
---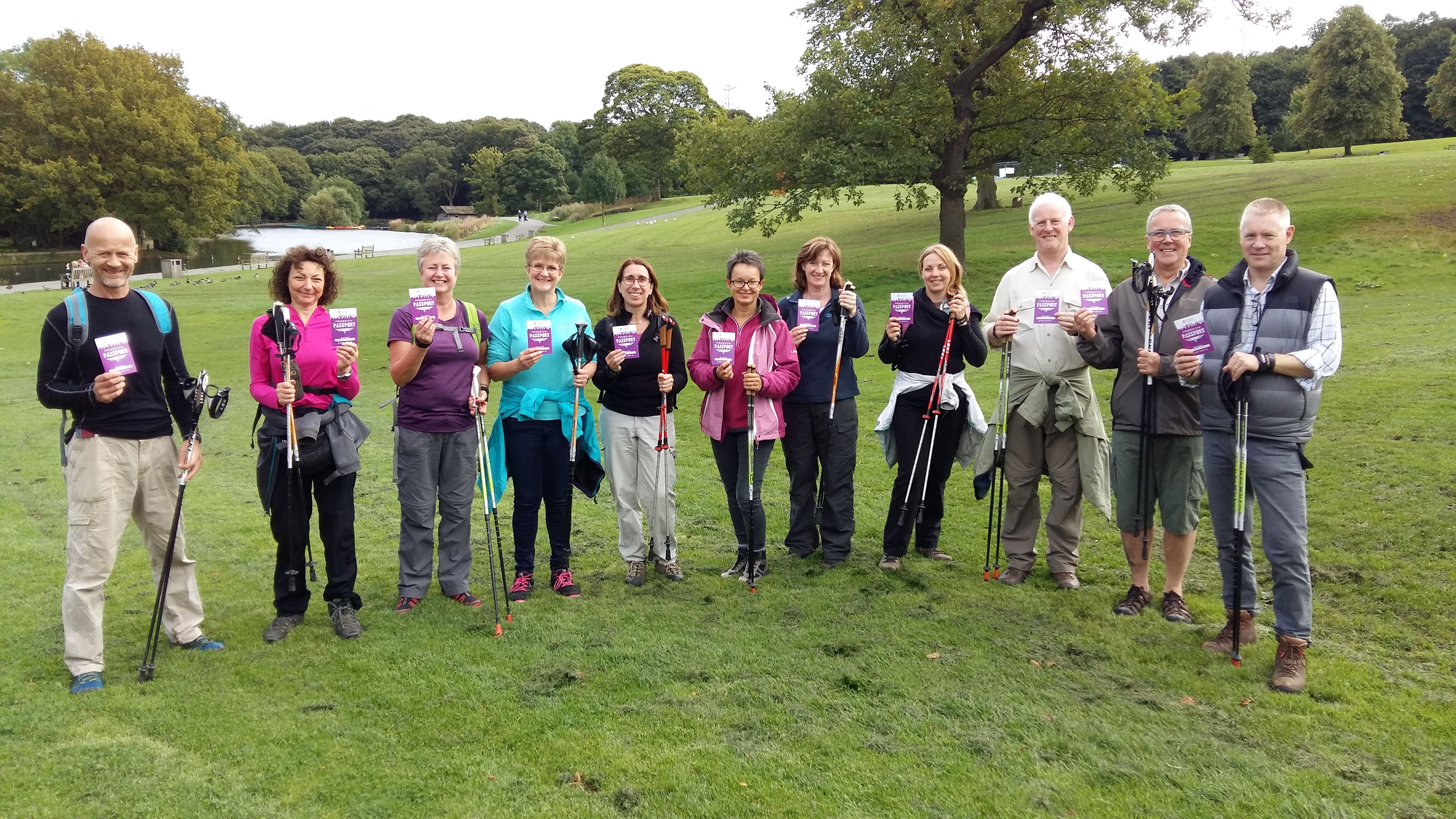 Over the last three years of building a thriving public community of Nordic walkers in Preston I have had the pleasure of instructing hundreds of locals into using the poles to improve posture, mobility, strength, health, fitness, wellbeing, energy levels, confidence, self-esteem, social connections and more. It is fascinating to see how so many have blossomed in terms of their health, wellbeing and confidence, and how for some it has been literally life-changing. I am blessed and grateful to have had the opportunity.
Stress and musculoskeletal issues are two of the biggest workplace wellbeing problems that lead to high absenteeism and presenteeism costs. With the correct equipment, tuition and experienced guidance a holistic and subtle approach to introducing Nordic walking in to the workplace we can both alleviate these costs, improve the health, fitness and wellbeing of sedentary staff, and go a long way towards minimising risks of more serious health problems that can easily force an employee to leave work, potentially indefinitely. The people most at risk of this are in fact your most loyal, experienced and likely highly valuable middle-aged workers.
If you would like to explore options for walking and talking with the added benefit of our magic poles, whether that be to break up a sales training day, or to activate your staff at lunchtime, or to enhance your networking experience then feel free to get in touch for a chat. We may even find time for a walk and talk. You can also find out more about Judith, Jane, and Kingswood Age Confident at: